Thermo Insulated Blocks
Ideal for building walls in hotels, commercial complexes and Residential buildings where heat gain is maximum to gain green Building credits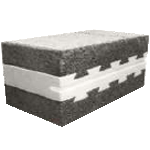 Recycled content low density, High compressive strength load and load bearing bricks.
Higher Construction Efficiency.
Excellent insulation with the polystyrene insert acting as a thermal bridge between two sides of the block, as the integrally bonded expanded polystyrene creates efficient thermal barrier.
The CFC free polystyrene inserts also provides good sound insulation.
Polystyrene acts as excellent vapour and moisture barrier.
KJS Thermal Block helps reduce electricity costs by over 25-30%.
  Bricks Specification
Thermo Insulated Block
Dimensions(mm)
Size
Average gross weight(kg)
Average gross density(kg /mm2)
Compressive Strength(N/mm2)
Water absorption
400 x 200 x 200
8"
16.5
1030 - 1150
>5
<10% by mass
Color Available
NOTE: The actual color and texture may vary, hence, these are best judged when viewing the actual product.