Hollow Block
Low density, load bearing and non-load bearing walling system: most efficient for insulation, faster construction, cost efficiency and as a better replacement to AAC.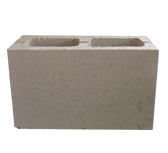 Hollow feature in design, these blocks are intended for use in the constructions of both load bearing as well non-load bearing walls, and are available in grade A and B as per IS standards.
Reduced Structural Loads.
Higher Construction Efficiency.
Lower Project Cost.
Qualify for IGBC and GRIHA credits based on use of Recycled Content.
Reduced Joinery and Plaster Costs.
Good Workability for Conduiting.
Good Insulation.
Best U Value after AAC.
  Bricks Specification
Hollow Block
Dimensions(mm)
Size
Average gross weight(kg)
Average gross density(kg /mm2)
Compressive Strength(N/mm2)
Water absorption
400 x 100 x 200
4"
10.5
1100 - 1500
>5
<10% by mass
400 x 150 x 200
6"
14.5
1100 - 1500
>5
<10% by mass
400 x 200 x 200
8"
18.5
1100 - 1500
>5
<10% by mass
Color Available
NOTE: The actual color and texture may vary, hence, these are best judged when viewing the actual product.